Beijing | 12 - 15 May 2019
------------------------------------------------------------------------------------------------------------------
China as an innovation hub and digital disruptor is rapidly gaining importance on a global scale. Already 9 of the 20 top internet companies worldwide are Chinese, letting experts speculate if China could be considered the next Silicon Valley. The "Great Firewall of China" has kept global players at bay and gave Chinese equivalents room to grow. Now, over 40% of the listed internet companies in China are registered in Beijing, many of them unicorns. What more reason to explore the People's Republic in person?
To that end, the VDZ is organising the "2nd Digital China Tour" from 12 to 15 May 2019. Our destination is the capital city Beijing, center of Digital China.We are already looking forward to visiting a wide range of digital companies. Get excited for media tech companies running machine learning content platforms such as ByteDance, cryptocurrency-digital asset exchange management services like Huobi, but also the e-commerce companies Look-Fashion based on WeChat and Fortune Global 500 member JD.com. Xiachufang combines online recipes with food related e-commerce for a community of 3 million daily users, while Ideapod re-interprets urban living in a new kind of coworking space. (subject to change)
Pricing
Early-Bird-Rate until 18 January 2019
VDZ members
4.990,- Euro (plus VAT)



none members
5.990,- Euro (plus VAT)
Regular-Rate
VDZ members
5.990,- Euro (plus VAT)

none members
6.990,- Euro (plus VAT)
What topics will we cover?
The participants will be introduced to field tested innovations,
initiated by successful digital companies as well as to system
solutions of highly creative startups. The scope of topics for the
trip reaches from new business models and their implementation
in the digital and mobile publishing area, to the developments in
the fields of Ad Technology, content creation, e-commerce, social
networks, Big Data and Targeting.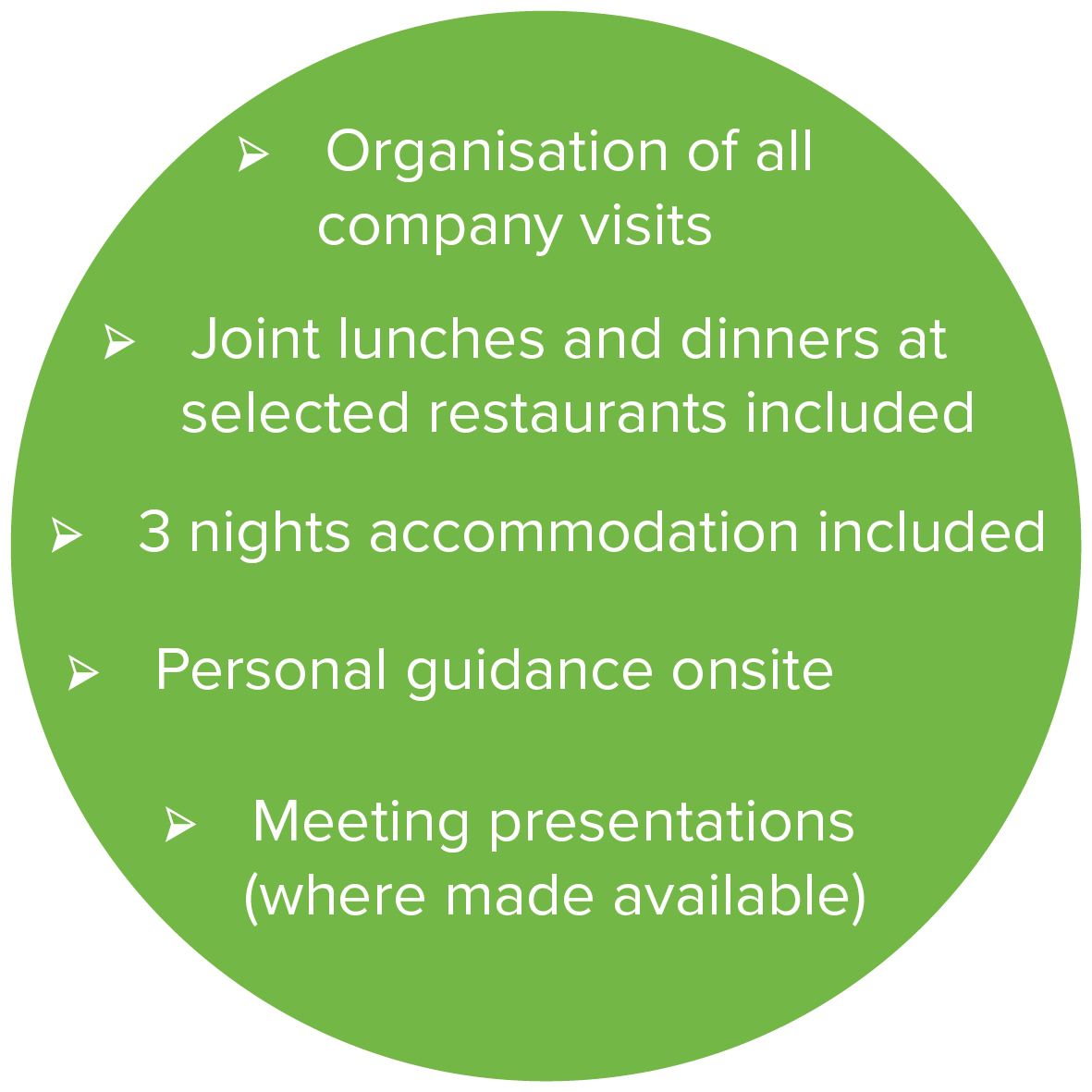 Companies (to be confirmed)


BYTEDANCE / Toutiao
ByteDance is a Chinese Internet technology company operating several
machine learning-enabled content platforms. ByteDance's core product,
Jinri Toutiao, is a popular content platform in China.

JD
JD.com, Inc., also known as Jingdong and formerly called 360buy, is a
Chinese e-commerce company headquartered in Beijing. It is one of the
two massive B2C online retailers in China by transaction volume and
revenue, a member of the Fortune Global 500 and a major competitor to
Alibaba-run Tmall.


LOOK
"content hub + one click to buy", mirroring liketoknow.it in the West, LOOK
not only solved the consumers' problem of where to buy, but also built a
consistent business channel for KOLs to monetize their influence.
The company has attracted many overseas e-commerce platforms such
as Farfetch and Net-A-Porter to join. According to the company, it currently
works with over 300 online fashion influencers and has officially launched
more than 200 brands.



HUOBI
Since its establishment in 2013, Huobi's accumulative turnover has exceeded
$1 trillion and once became the world's largest digital asset exchange with a
global share of 50%. Financed by ZhenFund and Sequoia Capital, Huobi Group
has invested in more than ten upstream and downstream enterprises. It has
established compliance service teams in Singapore, US, Japan, South Korea,
Hong Kong, Thailand, Australia with its secure and credible trading and asset
management services to millions of users in 130+ countries.

XIACHUFANG
Xiachufang is China's biggest online recipe-sharing community, 3 million
daily active users. The app allows users to find a new recipe they'd like
to try, and then they can order all kinds food related products through the
platform.


TENCENT
Having surpassed Facebook in valuation recently, Tencent is now the frontier
of Social in the world with more than 1 billion users. But, very differently to
Facebook, Tencent has managed to build an entire ecosystem with gaming,
eCommerce, FinTech and much more to make sure every user is monetized
multiple times.

WECHAT
Wechat is China's "app for everything", a multi-purpose messaging, social
media and mobile payment app developed by Tencent. The app is one of
the world's largest standalone mobile apps by monthly active users, with
over 1 billion monthly active users. According to Forbes it is one of the most
powerful apps in the world – a "super app" with a wide range of functions
and platforms

NETEASE MEDIA
It is an information platform for news and concepts. It offers information in
the areas of sports, entertainment, finance, women, technology, smartphone,
digital, automobile, health, travel, real estate, education, and more. The
company also provides NetEase News App for information and content; and
NetEase Open Course, an online learning and content-communicating platform
that offers users with education videos and image-text information of various
universities, such as Harvard, Stanford, and Oxford, as well as organizations,
which include Khan Academy, BBC, and TED, with the content covering various
fields, including culture, education, society, art, science and technology, health,
entrepreneurship, and finance.

IDEAPOD
Through reinterpreting urban spaces at the micro scale into various formal
conditions and inviting in nature, collaborative working space is dramatically
redefined and diversified. A unique spatial narrative is constructed from the
multitude of public and private functional spaces as one goes about their day
in ideaPod. This micro city is not simply a one of a kind creative environment,
but truly a diverse urban experience condensed into 1600 square meters of
interior space.
Who else goes?
Our tours offer an exclusive, intimate opportunity for up to 20 senior
level international delegates in media to join.
Previous attendees are from companies such as:

Pricing
Early-Bird-Rate until 18 January 2019
4.990,- Euro (plus VAT) for VDZ members
5.990,- Euro (plus VAT) for none members
Regular-Rate
5.990,- Euro (plus VAT) for VDZ members
6.990,- Euro (plus VAT) for none members

Services included:
Organisation of all company visits
Joint lunches and dinners at selected restaurants included
3 nights accommodation included
Personal guidance onsite
Meeting presentations (where made available)
Not included is your flight to and from Beijing or individual airport transfers.

Please note: You have to apply for a visa yourself. We will provide a necessary letter of invitation
If you need additional accomodation we are happy to assit.
Space on the tour is limited, please register as soon as possible. An invoice will be sent separately after registration. In the event of cancellation participant costs will not be refunded.

Impressions of the Digital China Tour 2018
Why China?
China as a country for global innovation and digitalisation has rapidly increased in importance in the last years. With internet companies now almost the same size as American counterparts, a huge domestic market and great global ambitions, it is more important than ever for us to understand the technology and innovation coming from China.
The power of 1.3 billion consumers
With the world's largest population, a fast-growing
middle-class and increasing purchasing power -
just by being "big in China" automatically makes any
company one of the world's largest.
Mega-cities unlike anywhere else
With over 100 cities with more than 1 million in
population, expected to double by 2025, and
megacities such as Beijing and Shanghai with
more than 20 million residents, China is experiencing
new unique challenges that come with densely
populated areas. This feeds innovation in a never
seen scale before.
No old tech legacy
In the late 90's and early 00's almost no-one had internet
nor computer in China. When smartphones came, it
became the first and only access to the Internet, building
an entirely new generation of consumers without any old
habits resulting in much higher adoption rate of new
services such as mobile payments, messaging and
e-commerce.
Please note that the program is subject to change.
The tour is limited to 20 participants. In case of overbooking we sort registrations according to date of receipt. Registrations from VDZ members have priority. The invoice will be send separately to the confirmation letter. The VDZ cannot guarantee a refund in case of a participant's no-show.
The VDZ reserves the right to cancel the tour if participant numbers are too low. In case the tour must be cancelled or discontinued due to act of God which include for example order by government agency, riots, airplane hi-jacking, terrorist attacks, fire, floods, natural disasters, power breakdown, accidents, storms, strikes, lockouts or other labour disputes, the VDZ cannot guarantee a refund of the tour fee.
Cancellation of the tour can be made up to 10 weeks prior to the tour start. However, costs that may have incurred already (i.e. hotel accommodation, catering) will be invoiced to the participant. Further, a processing fee of EUR 100 will be applied as well.
The VDZ General Terms and Conditions apply.

For further information and reservation you can contact Jennifer Panse:

For further information and reservation you can contact Jennifer Panse:

Jennifer Panse
VDZ Akademie
Haus der Presse
Markgrafenstraße 15
10969 Berlin
Telefon: 030.72 62 98 – 113
Telefax: 030.72 62 98 – 114
E-Mail: j.panse@vdz-akademie.de