Diese Veranstaltung hat bereits stattgefunden.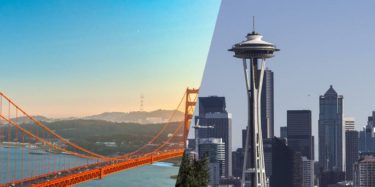 VDZ and FIPP Digital Innovators' USA Tour 2017
12.-17. November 2017
Seattle & San Francisco

The next Digital Innovators´ tour is coming up: In November, VDZ and FIPP will travel to the USA to experience the most important media & tech trends up close. This time we are going to visit two of the most exciting technology centers in the country: Seattle & San Francisco!
Silicon Valley as well as San Francisco is still the worldwide epitome of technological invention. Since the entire region is still permeated with a unique innovation spirit, a visit to the Bay Area will be without question the highlight of the tour.
We will also travel to Seattle, the home of Boeing, Microsoft, Amazon, Starbucks, Expedia and Tableau. The city at Puget Sound in the northwest corner of the USA is currently the fastest growing tech metropolis in the USA. Seattle has a thriving startup scene – not least because the University of Washington offers one of the most prestigious training programs for software engineers, next to Stanford and MIT – and more and more corporations are moving their software development to Washington's largest city. Meanwhile, more than 80 tech companies are running software development departments in Seattle – from AirBnB to the Walt Disney Group.
These publishing trends await you
• Artificial Intelligence (AI): Chatbots, Hearables, Data Analysis and more
• Augmented Reality, Virtual Reality and high-quality, immersive storytelling
• Messaging: Journalism and conversational style
• Own your niche: Events as lucrative line extensions for special interest publishers
• Internet of Things and Networked Mobility and their Opportunities for Publishers
Confirmed Companies
Geekwire | Facebook | Google | Thunkable
Element Data | Synapse | DB Best Technologies
Requested Companies
Amazon | AirBnB | Madrona Venture Group | Maker Media
Microsoft | Buzzfeed News | Contextly | LinkedIn | Matter VC
StatsBot | Volumetric studio | Wired Magazine
Price
Early-Bird-Rate until 12 September 2017
3.990,- Euro (plus VAT) for VDZ members
4.990,- Euro (plus VAT) for none members
Regular-Rate
4.990,- Euro (plus VAT) for VDZ members
5.990,- Euro (plus VAT) for none members
Services included
– Organisation of all company visits
– Joint lunches and dinners at selected restaurants included
– Domestic flight from Seattle to San Francisco included
– Personal guidance onsite
Not included is your flight to and from the USA as well as individual airport transfers.
Hotel costs are not inclued either and need to be booked separately. We are happy to assit with recommendations.
Space on the tour is limited, please register as soon as possible.
An invoice will be sent separately after registration. In the event of cancellation participant costs will not be refunded.
Ansprechpartner
Jennifer Panse
VDZ Akademie
Haus der Presse
Markgrafenstraße 15
10969 Berlin
Telefon: 030.72 62 98 – 113
Telefax: 030.72 62 98 – 114
E-Mail: j.panse@vdz-akademie.de