Diese Veranstaltung hat bereits stattgefunden.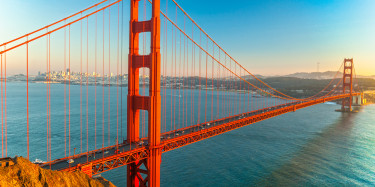 VDZ Digital Publishers' USA Tour 2015
Washington D.C. und San Francisco/Silicon Valley
27.09.2015 - 02.10.2015
Would you like to meet with executives at the Washington Post, Atlantic Media, Hanley Wood and Medium, discuss the latest developments of interest to publishers right at Apple and Twitter and hear the latest consumer trends straight from the preeminent Pew Research Institute? Then join us at the VDZ Digital Publishers Tour from September 27th to October 2nd to Washington DC and San Francisco/Silicon Valley, where you can enjoy the above confirmed meetings, with many more invigorating meetings to be announced!
The VDZ Digital Publishers' USA Tour is designed for leaders in the rapidly changing media industry. It aims to show you new approaches to media businesses, identify trends that will impact your industry, and foster discussion with some of the most innovative thought leaders in media. The tour is a fantastic opportunity to step away from your daily responsibilities to interact and connect with other leaders who are developing new ideas and dealing with similar strategic issues. You will be inspired and get concrete ideas for the way forward!
The tour will start in Washington D.C., the U.S. capital which is also home to innovative U.S. media companies such as the Washington Post, Gannett and National Geographic. These media companies are able to tap into an area rich with technology talent and hot tech and media startups. In the Washington, DC area we will meet with major magazine and newspaper media brands as well as startups involved with media and research institutes.
We then fly across the U.S. to San Francisco and Silicon Valley to experience the largest center of innovation and technology in the world. It is the home of such tech giants as Apple, Twitter, Google and Facebook but also many startups. We will engage with digital natives who are developing new products, services, business models, technologies and tools that are impacting and changing media.
Das sind die Themen
Mobile and Online Content
Social Media and Distribution
Mobile and Online Advertising
Data and Analytics
Programmatic Advertising
Native Advertising
Content monetization
Business models
New lines of digital businesses
Weitere Informationen
Confirmed Companies:
Washington Post
Atlantic Media
Hanley Wood
Pew Research Center
Apple
National Geographic
Twitter
Medium
Storied
Politico
Hasso Plattner Institute of Design at Stanford (d.school)
Trackmaven
Aptara
Vungle
Schedule:
27 September (Sunday): Welcome Dinner in Washington D.C.
28 – 29 September (Monday – Tuesday): Meetings in Washington D.C.
30 September (Wednesday): Flight Washington D.C. to San Francisco
1 October (Thursday): Meetings in the San Francisco and Silicon Valley area
2 October (Friday): Meetings in the San Francisco and Silicon Valley area, tour summary meeting
In order to provide a quality experience, places on the tour are strictly limited.
Konditionen
Regular rate for registrations:
The cost of the trip per participating person is
€ 7,500 plus VAT for VDZ members,
€ 8,500 plus VAT for non-members
Our all-inclusive package includes:
12 to 14 meetings with companies and other organizations or speakers (please note: All meetings will be conducted in English)
5 nights in 4-star hotels in Washington D.C. and San Francisco
Local transportation
Economy flight from Washington D.C. to San Francisco
All meals (breakfast, lunch and dinner) from Sunday dinner (27 September) until Friday lunch (2 October).
Not included in the price is the individual travel to Washington D.C. and from San Francisco and the associated airport/hotel transfers.
Ansprechpartner
Anett Breitsprecher
VDZ Akademie GmbH
Haus der Presse
Markgrafenstraße 15
10969 Berlin
Telefon: 030.72 62 98 – 158
Telefax: 030.72 62 98 – 114
E-Mail: a.breitsprecher@vdz-akademie.de