Diese Veranstaltung hat bereits stattgefunden.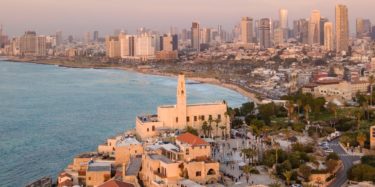 VDZ Digital Tour Israel
01.-04. März 2020
When it comes to artificial intelligence, blockchain solutions, FinTech and cyber security, the Israeli startup scene is worth a closer look. Neither Silicon Valley, New York, London or Chinese metropolises have such a high per capita density of startups as Tel Aviv. Israel has become one of the international hotspots of the tech industry.
Join us on the "VDZ Digital Tour Israel" from March 15th to 18th, 2020 and immerse yourself with us in the unique digital ecosystem. In addition to visits to startups that are relevant to the publishing industry, deep-dive sessions and panel discussions with experts are on the agenda to get to know the current core areas of the booming Israeli startup scene.
An investment-friendly government and an excellent education system, particularly in Tel Aviv, are creating an innovative digital infrastructure that is characterized by a strong entrepreneurial spirit, a multicultural society and a tolerant culture of error. The communicatively closely networked companies in the tech oasis maintain close exchanges with international tech giants, especially US corporations such as Apple or Amazon. This production, which is geared towards the global market, meant that Israel had 19 startup exits beyond the 100 million mark between 2012 and 2018. Reason enough to take a closer look at the prevailing mood of founders in Tel Aviv's start-up scene and its importance for German media companies.
What topics will we cover?
The participants will be introduced to field tested innovations, initiated by successful digital companies as well as to system solutions of highly creative startups. The scope of topics for the trip reaches from Digital Publishing Trends, Data Management, Targeting Tools & Innovative Data Tools, Ad-Technology, Cooperation Platforms, Paid Content/Services, Social Networks/Communities, Online Advertising and E-Commerce.
Pricing

Early-Bird-Rate until February 7th, 2020
2.990,- Euro (plus VAT) for VDZ members
3.390,- Euro (plus VAT) for non-members
Regular-Rate
3.500,- Euro (plus VAT) for VDZ members
3.900,- Euro (plus VAT) for non-members
Services included:
– Organisation of all company visits
– Joint lunches and dinners at selected restaurants included
– 3 nights accommodation included
– Personal guidance onsite
– Meeting presentations (where made available)
Not included is your flight to and from Tel Aviv nor individual airport transfers.
If you need additional accomodation we are happy to assit.
The tour is limited to 15 participants. In case of overbooking we sort registrations according to date of receipt. Registrations from VDZ members have priority. The invoice will be send separately to the confirmation letter. The VDZ cannot guarantee a refund in case of a participant's no-show.
The VDZ reserves the right to cancel the tour if participant numbers are too low. In case the tour must be cancelled or discontinued due to act of God which include for example order by government agency, riots, airplane hi-jacking, terrorist attacks, fire, floods, natural disasters, power breakdown, accidents, storms, strikes, lockouts or other labour disputes, the VDZ cannot guarantee a refund of the tour fee.
The VDZ General Terms and Conditions apply.
Ansprechpartner
Jennifer Panse
Senior Project Manager Events
Telefon: 030.72 62 98 – 113
E-Mail: j.panse@vdz.de